Please join us for an early season race at Elm Creek. 10km and 5km options. Open to all skiers. Divisions include Master and Junior/High School. This is a freestyle race but classic skiers may race as well and tracks will be set. WE WILL ONLY BE TIMING THE TOP 3 FOR EACH GENDER FOR THE 5KM RACE. COACHES OR ATHLETES WILL NEED TO SELF TIME (WE WILL HAVE CLOCK).
The 5km race will be a memorial event in honor of Osseo Coach Brad Rosch. Proceeds of this race will go towards the Brad Rosch Memorial Scholarship Fund.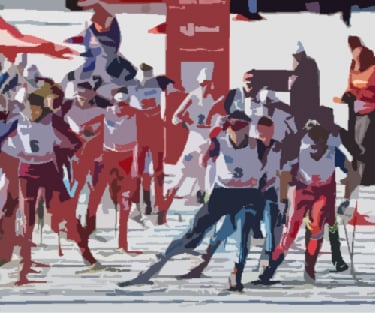 Sunday December 26th, 8:30am (10km) and 9:15am (5km)
Elm Creek Park, Maple Grove
$20 Pre-register Online before Dec. 26th ($10 for high school kids and juniors)
Limited race day registration , PLEASE sign up online. (Day of race registration will be $30, $10HS) 
Register On-line: CLOSED, Sign Up race morning 7-8am
Start Times: 8:30am for 10km, 9:15am for 5km
Prizes for top three men and women. Awards will be avalible for pick-up at Pioneer Midwest after the race (store opens at 11am on the 26th)
***Day or season Three Rivers Ski Pass required and not included in race fee.
***Bib pick-up will begin at 7am
***QUESTIONS: Email race director Marybeth Liebsch -  [email protected]
10km Results 2021
| | | | | |
| --- | --- | --- | --- | --- |
| Place | First Name | Last Name  | Gender | Time |
| 1 | Luc | Golin | M | 22:30 |
| 2 | Torsten | Brinkema | M | 23:06 |
| 3 | Nick | Kjome | M | 24:23 |
| 4 | Andy | Schakel | M | 24:24 |
| 5 | Brian | Olson | M | 24:25 |
| 6 | Zach | Nelson | M | 24:27 |
| 7 | Chris | Parr | M | 24:28 |
| 8 | Sean | Heaton | M | 24:30 |
| 9 | Charles | Reinhardt | M | 24:59 |
| 10 | Brock | Lundberg | M | 25:18 |
| 11 | Aaron | Casey | M | 25:19 |
| 12 | Matthew | Clarke | M | 25:20 |
| 13 | Andrew  | Larson | M | 25:21 |
| 14 | Douglas | Shield | M | 25:30 |
| 15 | Carter | Scheele | M | 25:43 |
| 16 | PJ | Rubin | M | 26:08 |
| 17 | Clayton | Keim | M' | 26:10 |
| 18 | Luke | Nelson | M | 26:13 |
| 19 | Ron | Omann | M | 26:15 |
| 20 | Pete | Dalquist | M | 26:21 |
| 21 | Bennett | Adams | M | 26:50 |
| 22 | Lucas | LiaBraaten | M | 26:51 |
| 23 | Charlie | Brown | F | 26:52 |
| 24 | Nick | Trzynka | M | 26:59 |
| 25 | Garrett | Shaffer | M | 27:13 |
| 26 | Blaze | Fugina | M | 27:14 |
| 27 | Ryan | Peterson | M | 27:57 |
| 28 | Tom | Ajax | M | 28:16 |
| 29 | Theo | Holdsworth | M | 28:24 |
| 30 | Abrahm | Geissinger | M | 28:36 |
| 31 | Aaron | Nelson | M' | 29:03 |
| 32 | Daisy | Richmond | F | 29:56 |
| 33 | Steve | Edling | M | 29:58 |
| 34 | Artie | Huber | M | 30:01 |
| 35 | Alex | Voznyuk | M | 30:05 |
| 36 | Emily | Flynn | F | 30:17 |
| 37 | Jenna | Ruzich | F | 30:27 |
| 38 | Kaelyn | Nelson | F | 30:39 |
| 39 | Jonathan | KOSBAB | M | 32:05 |
| 40 | Acadia | Hegedus | F | 32:55 |
| 41 | Ellen | Adams | F | 34:16 |
| 42 | Mackenzie | Heaton | F | 34:18 |
| 43 | Martin | Kichman | M | 34:45 |
| 44 | Andrea | Potyondy-Smith | F | 42:04 |
5km Results 2021
| | | | | |
| --- | --- | --- | --- | --- |
| Place | First Name | Last Name  | Gender | Time |
| 1 | Margaret | Wagner | F | 12:46 |
| 2 | Jack | Carter | M | 12:57 |
| 3 | Eliot | Kramer | M | 12:58 |
| 4 | Noah | Bleakmore | M | 13:30 |
| 5 | Claire | Wagner | F | 13:31 |
| 6 | Finnian | Adams | M | 14:38 |
| 7 | Jonathan | Samey | M | 14:39 |
| 8 | Justin | Roemer | M | 15:13 |
| 9 | Jake | Mattson | M | 15:15 |
| 10 | Izzy | Roemer | F | 15:34 |
| 11 | Matt | Ttrzynka | M | 15:57 |
| 12 | Peter | Larson | M | 16:27 |
| 13 | Meghan | Pierson | F | 16:32 |
| 14 | Madeleine | Kjome | F | 16:57 |
| 15 | Stella | Bone | F | 18:02 |
| 16 | Kenna | Nguyen | F | 18:25 |
| 17 | Joe | Mattson | M | 18:50 |
| 18 | Henry | Nguyen | M | 19:59 |
| 19 | Nathaniel | Kosbab | M | 21:06 |
| 20 | Claire | Bicek | F | 24:26 |
| 21 | Morgan | Wester | F | 34:14 |
| | | | |
| --- | --- | --- | --- |
| 10k Men | 10k Women | 5k Men | 5k Women |
| Brian Gregg | Alayna Sonnesyn | Adrik Craftson | Rana Kraftson |
| Thomas O'Harra | Michaela Keller-Miller | Trevor Caflisch | Stephanie Lewis |
| Matt Liebsch | Margie Freed | Beck Pope | Cecilia Boyle |
*VIDEOS FROM 2018*
| | | | |
| --- | --- | --- | --- |
| 10k Men | 10k Women | 5k Men | 5k Women |
| Foss Kerker | Mara McCollor | Joshua Albrecht | Abigail Drach |
| Jakob Ellingson | Eliska Albrigsten | Mathew Bourne | Siri Bohacek |
| Patrick Acton | Sienna Ellingson | George Goldade | Zoe Camp |