#weatherdad 1/8/18
This forecast is based on the 12Z GFS model run, which is generally consistent in its precipitation pattern with prior GFS runs for the last several days regarding the storm system for this week.  The total modeled precipitation through Friday morning is shown in the graphic below.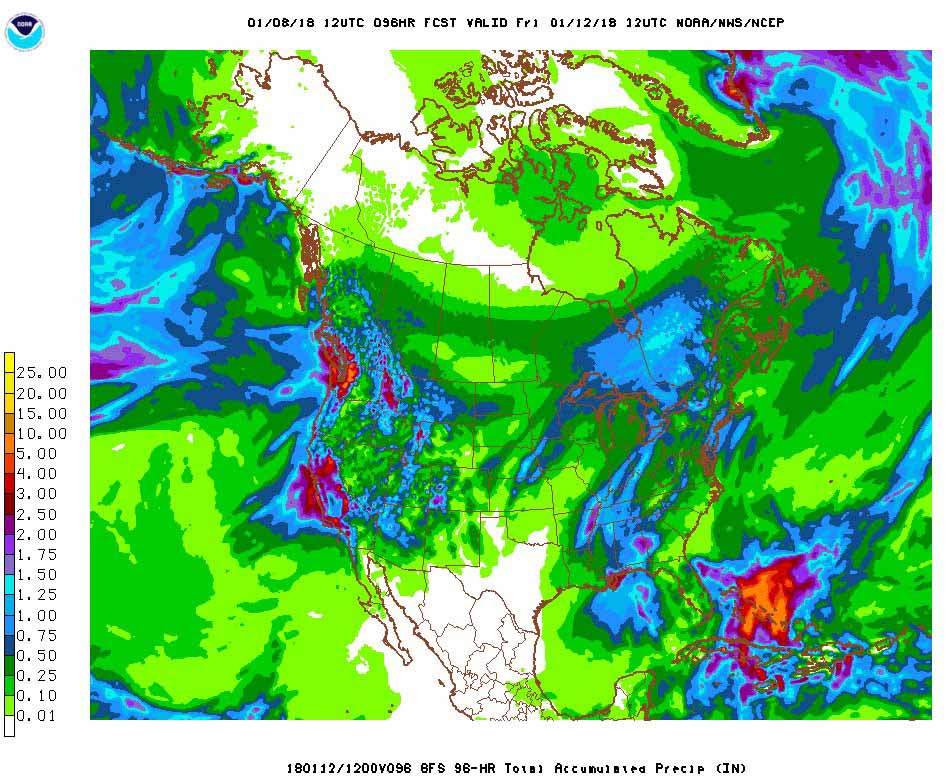 The one-half inch plus of liquid equivalent shown below from south-central through east-central MN includes some Gulf of Mexico moisture, finally.  The precipitation should start in the Twin Cities late Wednesday evening, possibly as freezing rain/sleet, but quickly changing to all snow.  There could be a couple of inches overnight Wednesday night, and it should be snowing at a good clip during the Thursday AM rush hour, so that will obviously be the most difficult commute due to this system.  Given somewhat wet snow to start, and much drier toward the end of the event, the model output below implies metro totals of 4-8 inches.
Snow is expected to end in the metro by mid-afternoon on Thursday, but even with the good plowing we typically get in MN, the evening rush could still be slightly challenging.  Also, there will be some wind with this system.  Not horrible wind, but enough for some drifting in especially open areas.
A weak system could give us a dusting to an inch on Friday evening, before some pretty cold air settles in for Saturday and Sunday.  With fresh snow cover in the metro, it should cool off quickly at night, and be slower to rebound during the daytime next weekend, which will likely have highs in the single digits, and lows approaching double digits below.
The long range pattern for next week looks active, so there is a chance of more precipitation then, but temperatures may be closer to the freezing point, so precipitation type is questionable.